Arts in the Alley
A  weekend of great music, art, entertainment, food, & drinks. 
Times:

11am – 8pm

Dates:

June 24-26 2022

Cost: FREE & Workshop fees may apply
Location:

3113 Surfers Paradise Blvd Surfers Paradise 
Live Laneway Artists 
A collective of artists from a variety of styles are coming together to showcase their talents LIVE in the middle of the laneway. This collaboration of artists all have painting backgrounds and features from emerging to established artists. Come and have a chat with these dedicated creatives and enjoy art coming to form.
Live Art Performance 
24.06.22 3-5pm LIVE artist performance by Anthony Pieters This mesersing live visual performance, creates a fusion of live art, movement and dance. 
Sculpture installation pigface by SWELL artist parthenpoi 
As one of the SWELL Sculpture artists parthenopi has set the scene with her PIGFACE installation with the Arts in the Alley festival. parthenopi is an emerging artist that has trained and worked as a florist for over a decade and specialises in creating large sculptural floral installations for special events. She relishes in experimenting with bold and clashing colours and injecting a sense of humour into her work to make audiences smile. She has been inspired by our unique Australian native flora and its plight against plastic pollution.
Meet the artist over a family friendly activity. Join in for a FREE kids colouring workshops with artist parthenopi. Create your own masterpiece inspired by the Australian native pigface flower and parthenopi's playful upcycled sculpture from 3-5pm June 24-26th. 
Live Muralists
Community mural & live 3D and illusionl muralists will be on show throughout the festival. Channel your creative self, and create and or share a moment while you pick up a paint brush and add your piece to the Surfers Paradise community mural conducted by local artist Lisa Hu and commenced by Cr. Darren Taylor. Or sit back and watch two internationally renowned artists at their craft and witness an optical illusion mural unfold by legends Buster and Earl Ellis. 
Community Muralist 
Lisa Hu –  an artist and ceramicist from the sunny seaside of the Gold Coast. Her work has always been inspired by flora and fauna, taking the form of thoughtful illustrations, murals, and small-release ceramic ranges. 
3D Illusionist Muralists
Buster is a freelance scenic and fine artist, with over 40 years experience, from theatre to film, television and theme park projects.
Earl Ellis is a multi-skilled artist with over 22 years experience, specializing in scenic artistry and all fields of painting amoung the director of Paint Freaks.
Art Workshops 
Have some fun, learn new skills and try something different or familiar at a creative workshop during Arts in the Alley. No experience is needed, just gather great company and let the specialist take you on a creative journey.  All classes come with teachers & materials. Bookings must be in advance with individual businesses so please contact them directly.
25.06.22 3-5pm Invessa Ivascanin Paint & sip workshop. Learn step-by-step instructions on how to prepare the background, sketch, and paint the oranges growing on the tree. Experience demonstrations on creating shadows, reflections, bends and more on your own keep-sake painting for only $40 p/p. 
26.06.22 3-5pm Sip n Dip Resin workshop. Ease into art and have some fun by selecting and playing with colors among making patterns by working with resin. Add your own creative touch to your keep-sake bamboo tray within this workshop for only $50 p/p.
Therapeutic Creative Workshops 
The Inspired Life Collective  presents Creative Expression Therapist and Artist, Nina Mitens who will be showcasing their artworks, offering live 'Energy Portraits', and hosting 'Connect through Creative Expression' family friendly workshops. Play with your inner child, using creative activities & exploring the ideas of 'creative communication'. Held daily 24-26 June 2-4pm, for only $55 p/p.
For bookings and more information please visit Connect through Creative Expression Workshop 
If you are looking for an adult-focused workshop full of laughs, then book in 25th of June at 5:30pm – 7pm for 'Permission of Play'.
Create a piece designed by 'chance', inspired by your inner child 'playing' the game of creativity. Think Paint and Sip… but as a game. No artistic skill required, guided workshop, all materials included for only $55p/p.
For bookings and more information please visit : Permission of Play – Adults only Workshop
Special guest residency on Sunday June 26th will be featuring Sarah Yip's mirco-workshop Palmistry Art ' The future is in your hands'.
Pop Up Shops
An emerging multi hyphenated creative raised in Bundjalung country, Alyssa Powell-Ascura will be hosting a pop up June 24-26 from 12-7pm shop inspired by Filipino Sari Sari Stores and Japanese Convenient Stores. 
Visit, browse and purchase art prints, illustrations, zines, dried floral arrangements, Rose and Citrus jewellery amongst other creative work inspired by her Filipina Australian identity.
AllaArt developed her passion and talent for art from early childhood to now being recognized and winning awards in exhibitions and competitions all around a love around watercolors.
Check out and purchase her art prints and originals of different watercolor techniques and themes set on high quality cotton paper and framed in glass from June 24-26, 12pm-7pm.
Crystal Embrace is unique bespoke jewellery. Which encompasses the creator's passion for natural shapes, colors and textures of nature, especially crystals and gemstones.  The energy of crystals and healing properties have arisen in artistic style which Crystal Embrace incorporate in their hand made designs.
Select from a variety of styles for your perfect accessory for yourself and or for a lovely gift from June 24-26 12-7pm.
Live Music 
While you relax and immerse yourself in a creative hub, we have put together an awesome line up of some of the best soothing sounds from around QLD. LIVE music daily from 11am – 2pm & 5-8pm. If you like the blend of pop and alternative, country, jazz, lounge or traditional classical we have the genre for you. 
24.06.22 11am-2pm Indulge in soul and indie folk through storytelling & creative guitar work with Ella Belfan 
24.06.22 5-8pm Kick off Friday night with alternative, fusion, singer-songwriter Emma Tomlinson
25.06.22 11am-2pm Get a dose  of moving, country music by internationally acclaimed artist Brooke Supple
25.06.22 5-8pm Settle in for an evening with lounge and jazz by multi-instrumentalist Life is a Myth 
26.06.22 11am-2pm Indulge in classical sounds by the talented local group that forms The Gold Coast String Quartet 
26.06.22 5-8pm End your Sunday with blues, jazz and roots set featuring award winning artist  Leo Altarelli 
Food & Drinks
Tantalize the taste buds with a range of international dining options throughout the laneway or more information about our restaurants visit Cavill Lane.
Or just stop in for a wine at the laneway bar and stroll through the event on an self-guided artwork tour.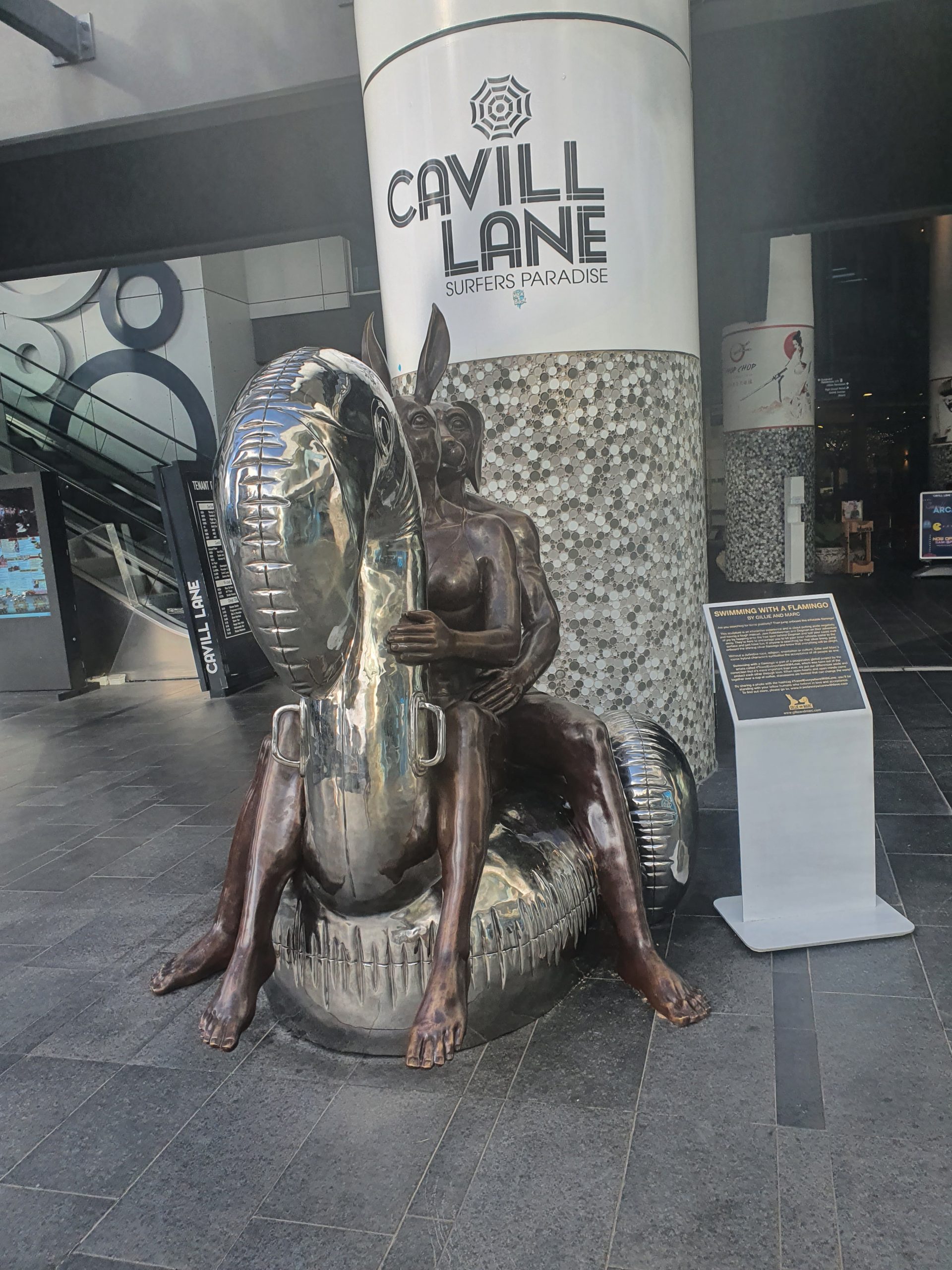 Gillie and Marc
Come visit Cavill Lane Surfers Paradise and snap a pic with Gillie and Marc latest sculpture!
Internationally renowned artists and Australian locals, Gillie and Marc Schattner are bringing their beloved hybrid lovers, Rabbitwoman and Dogman to Surfers Paradise, this time on the back of a giant inflatable flamingo. Dressed in their swimming trunks and ready to hit the waves, this giant sculpture is here to add a smile to everyone's faces.
The Flamingo Riders is a sculpture created for one simple purpose, to inspire joy and make people laugh. Now, this unique piece of positive public art is coming to Cavill Lane to mix in with the vibrant scene that permeates the hidden laneway. Surrounded by bustling international restaurants to everyday conveniences, among an abundance of street performance, art, and entertainment these two lovers and their flamingo will be joining one of the best-hidden gems of the city.
"We are so excited to see our sculpture in such an artistic and cultural hub of Surfers Paradise. We can't wait to see how they add to the quirkiness of the laneway and see people finding joy in every nook and cranny," says Marc.
In classic Gillie and Marc style, this sculpture is a full public sculpture experience. With space on the back of the flamingo behind Dogman, the public are encouraged to jump on board and set sail on an adventure. It's a way to encourage people to let go of any negativity and let their inner silliness shine out as bright as the stainless steel flamingo.
The Flamingo Riders is on display in Cavill Lane Surfers Paradise for the public to enjoy.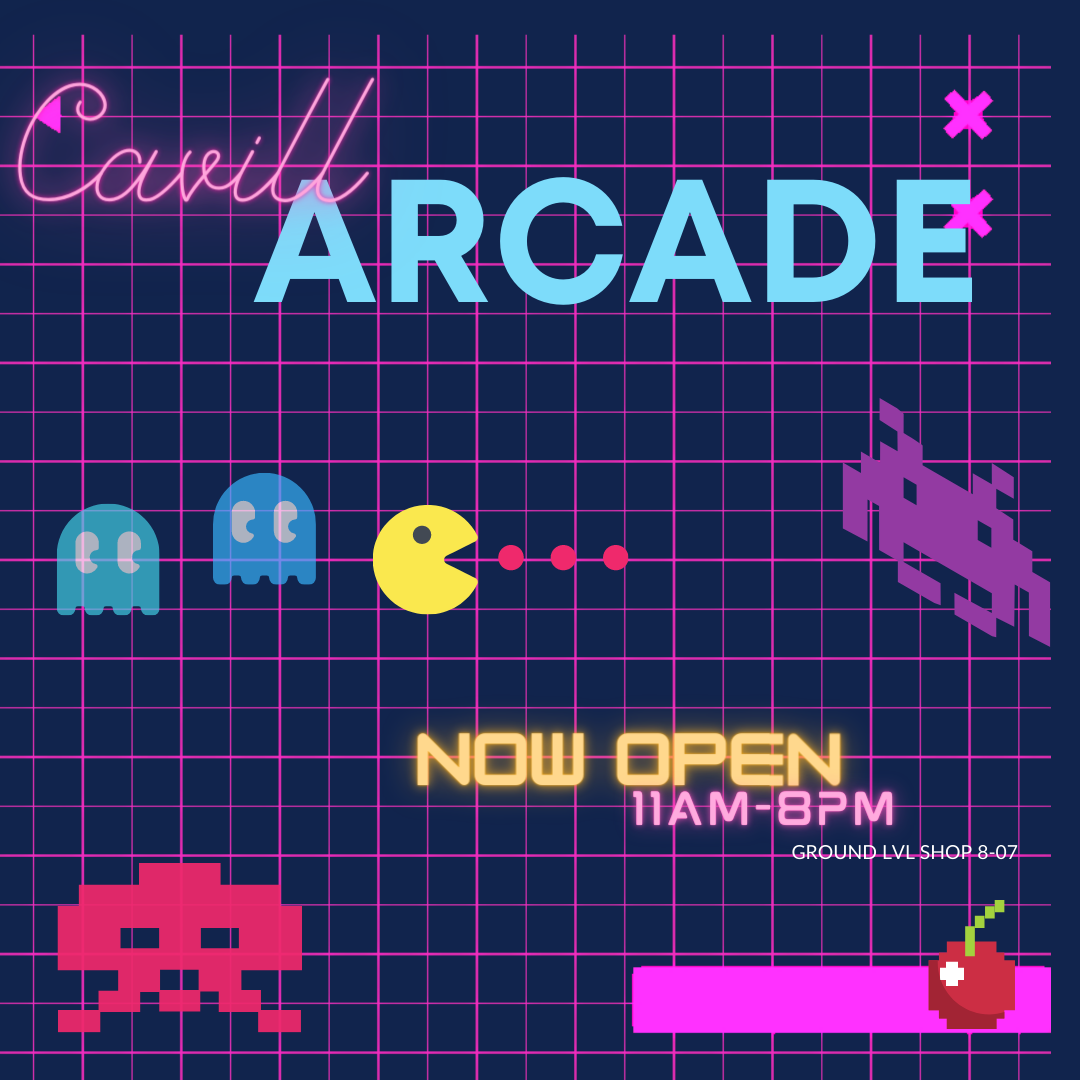 CAVILL ARCADE 
Get your game on at the Cavill Arcade! Check out and play some games in a very cool space from the classics to skill testers. These machines accept coins & card.
Open everyday from 11am to 8pm located in shop 8-07.