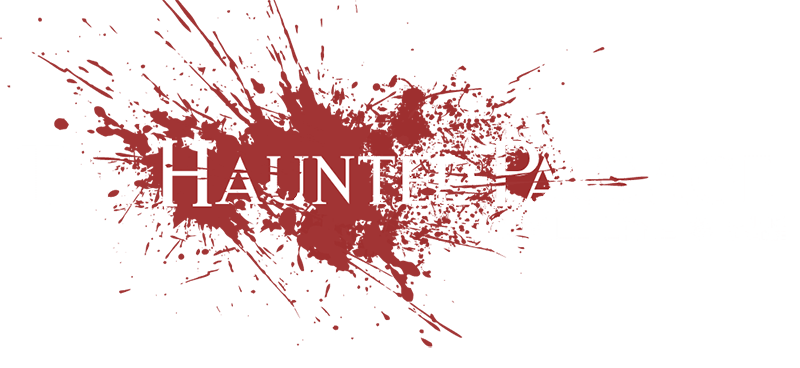 Cavill Lane presents The Haunted Passage
Experience Haunted Halloween weekends at Cavill Lane on select nights 15-31st during the month of October from 5-9pm!
This eerie and atmospheric attraction within a hidden laneway will showcase themed activations, little shops of horror, laneway bar and our main attraction a haunted maze all amongst our resident traders for one hell of a good night.
There are plenty of culinary experiences and authentic street food options to indulge in as well as for you to grab a drink during event hours at our laneway bar. Attractions vary in price and may have cash restrictions though there is an ANZ ATM on site. Make a night of it and stay at the Hilton Hotel and enjoy the Haunted Halloween nights in the heart of the city….
#thehauntedpassage
PLEASE TAKE NOTE
Be warned this event is not for the faint hearted & will have lighting, audio & sensory effects in place. Therefore please ensure you read & understand conditions of entry.
COVID-19 restrictions and government regulations apply.
Event Details
From 15th to 31st of OCTOBER 2021
Select Friday & Saturday Nights & Halloween 31st of Oct 
Time: 5pm – 9pm
This Haunted Halloween event will showcase roving performers , scare actors, atmospheric effects, little shops of horror, laneway bar and our main attraction of the Haunt Maze amongst our resident traders for one hell of a good night. – Conditions apply
Admission Prices to the Event is FREE, just pay per scare attraction and or as per stall holder offerings.
…
Conditions apply
Charged On-site Activations
Haunt Maze $10 online + booking fees OR $15 on the door (Etfpos only)
Padlock'd CarnEVIL – 20min Escape Room $20p/p 2-6 victims
Padlock'd Trapped – 5min Puzzle Experience $5p/p 1 vs 1

Free to visit within The Haunted Passage 
Partilicious Costumes
Horror Art by Connie Gallo – Dark Artwork for sale
Ripley's Believe it Or Not! – Carnival games & themed gifts for sale
Heaps of photo opportunities
And so much more….
BOOK HAUNT MAZE ONLINE
Your guide to Haunted Halloween Nights
Experience Haunted Halloween weekends at Cavill Lane on select nights 15-31st during the month of October from 5-9pm!
JOIN US IF YOU DARE
FIRST NIGHT | FRIDAY 15th OCTOBER
10/15/2021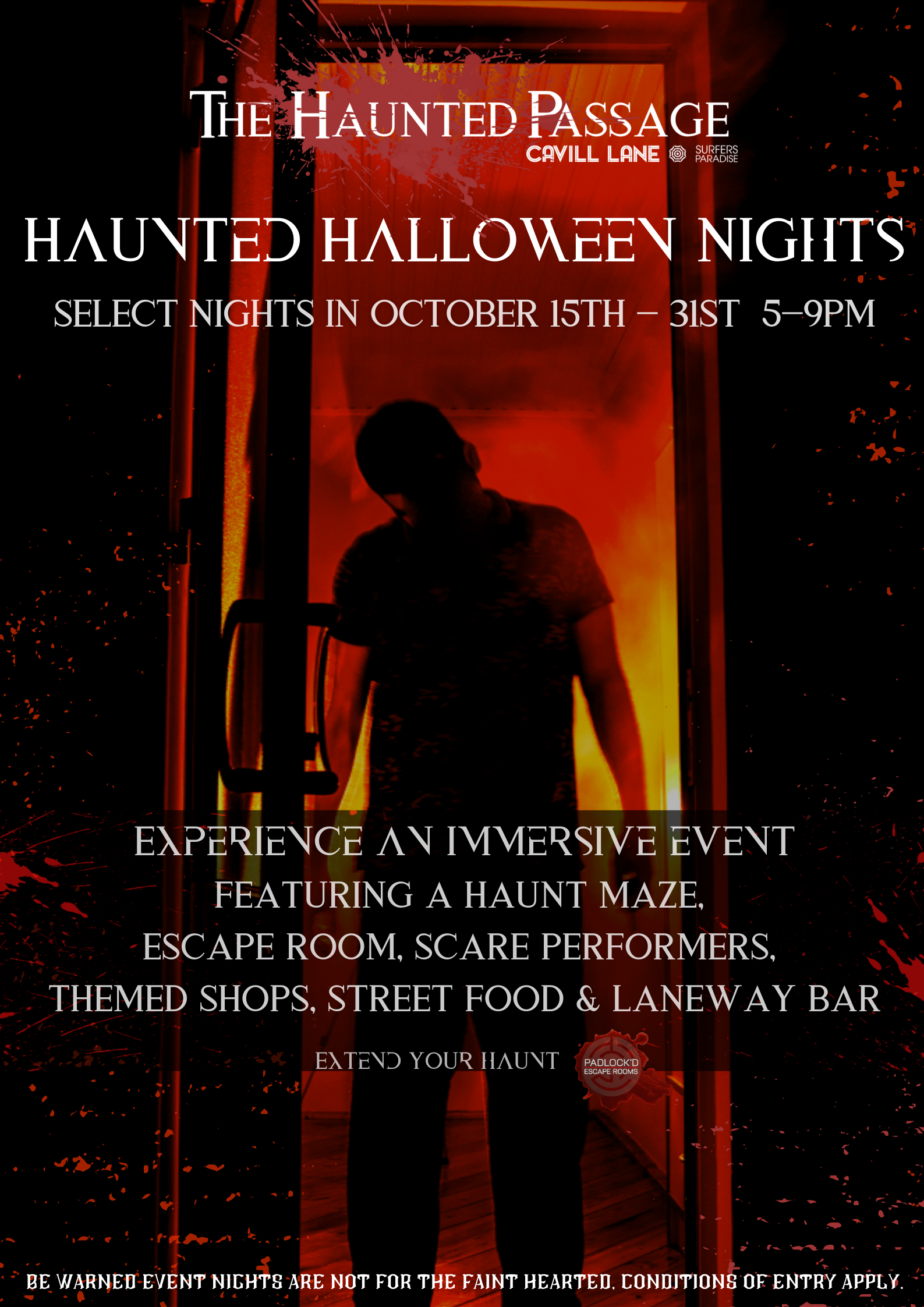 BOOK HAUNT MAZE ONLINE & SAVE
Cavill Lane is all about working with Stakeholders, Local Businesses, Talent, Performers and More! Share the ❤ with our Infected Partners.
WARNING HAUNT MAZE HAS CONDITIONS OF ENTRY
All Patrons will be screened prior to entry to the Haunt – If you feel unwell or are sick PLEASE STAY HOME, no refunds will be given if you are no longer able to attend.
No pets
No lose clothing, items and or masks or make-up that hider vision and or could cause an incident
No weapons
No alcoholic beverages
No drugs
No cameras
No smoking
No vaping
No laser pointers or flashlights
No food or beverages
No bags (no backpacks, no shopping bags)
No photos or videos
No touching actors and or props within the haunt
Emergency exits will be within the haunt and used when required. Event staff will be onsite at all times to aid in assistance where required. 
Please read the information below carefully and all warnings before ticket purchase and or entering the haunt maze.
If any of the rules are not followed, you will not be admitted and or removed from the haunt and asked to leave the property without refund. By purchasing a Haunt Maze ticket means you have accepted and fit within the conditions.
The haunt is designed to be an intense experience. Character interactions, special effects, sound and lighting special effects are constantly while you are inside. All guests are required to continuously walk through each room at a reasonable pace without stopping. Stopping or moving too slowly will disrupt the operations of actors and effects and slow the flow of overall traffic causing groups of people to catch up to each other.
For your safety please follow instructions from event staff at all times
Wait times may vary due to circumstances beyond our control
Maximum of 2 people per group per haunt entry will be allowed to enter at a time.
No Video or photos can be taken within the haunt
Absolutely no touching anything or anyone.
Any type of foul behaviour such as fighting, pushing, verbal abuse etc. will not be tolerated towards our staff, merchants, actors, performers and or members of the public. Security is onsite and will immediately remove you.
Please note this event is not suitable for people under the age of 16 and or anyone that suffers from medical conditions or has a disabilities such as crutches, casts, wheelchairs etc. Due to the nature of the haunt it is in everyone's best interest to be as safe as possible within the Haunt Maze. 
Haunt Maze tickets are once use only.
Haunt Maze entries are on a first in first serve basis and can be used on any Haunted Passage night. Please plan your attendance of the Haunt Maze in advance to help secure entry, arriving too close to the close time of the event may affect entry on the day.  Please note the 31st is deemed to be the busiest day therefore to avoid disappointment please come to an earlier date and time. Sales will conclude before 9pm each night.
WARNING This attraction reserves the right to refuse anyone. 
You will experience intense audio, lighting, extreme low visibility, strobe lights, fog, damp or wet conditions, special effects, sudden actions, restricted spaces, and an overall physically demanding environment.
DO NOT ENTER a Haunt Maze if you suffer from asthma, heart conditions, prone to seizures, physical ailments, poor sight, respiratory or any type of medical problem, or are pregnant or suffer from any type of mental disease including claustrophobia and or panic attacks.
DO NOT ENTER the attraction if you are intoxicated, wearing any form of cast, medical brace, using crutches, or have any type of physical limitation.
DO NOT ENTER the attraction if you are taking medications or using drugs of any type. You will not be admitted if any of these conditions are to be noticed by our staff.
DO NOT smoke, run, eat or drink inside the attraction. Additionally, there is no touching of actors, customers or props inside the attraction.
DO NOT bring real or fake weapons, lights/torches or cigarette lighters into the attraction.
NO video or flash photography may be taken inside the attraction.  Keep your phones and cameras securely inside your pocket and or bag etc. while you are inside the haunt. You will have a better, more enjoyable experience without the distraction of attempting to film or photograph your visit inside.
The Haunted Passage is not responsible for lost or stolen property. Please secure any loose articles that could be lost in the attraction as we will not be able to look for the item until the next day. Please note there are no lockers onsite and all personal items are the responsibility of the guest/s.
Ticket holders understand that there is inherent risk involved with attending this attraction.  Ticket holders voluntarily assume all risks and dangers associated with participation in this attraction. In consideration and acceptance of entrance into the Haunt Maze attraction, the guest agrees to release the operator, it's parent corporation, affiliates, officers, directors and employees and landlord from any liability, harm, damages, penalties injury or death, cost or expense whatsoever that may arise directly or indirectly from attending this attraction or any of the attractions at this location.
All regulations apply for any OFFICIAL representative selling The Haunted Passage – Haunt Maze tickets. Conditions will apply for extended partners offers under individual businesses.
Consider carefully before buying a ticket. The Haunt Maze Tickets are Non-Transferable and conditions apply.
Refunds will not be given if you enter the haunt and decide to leave early, get too scared and decide not to enter, can no longer attend, complete the haunt and request a refund after you have gone through the attraction. Unused tickets are invalid for a refund.
If you are under influence of drugs and or alcohol and are asked to leave refunds will not be given and or if you are in  breach of any of The Haunted Passage event conditions, haunt maze or any associated stakeholders within Cavill Lane.
Thank you for your cooperation with this important policy.
Photos and videos will be taken during the event times and will be used for promotional purposes.
In the event of the cancellation of an event by The Haunted Passage. The Haunted Passage will use best endeavours to inform updates throughout Cavill Lane digital channels and contact Haunt Maze purchasers either by phone, email or in writing (using the details provided at the time of booking) and advise them of the cancellation first hand (independent of the automated booking system).  Please note, however, it is the customer's responsibility to check whether the event is going ahead at the scheduled date, time and venue, and The Haunted Passage cannot guarantee that they will inform the customer of any changes to the event date, time or venue. Any changes made by the automated booking system need to be verified by the customer, if not notified by Cavill Lane Management.